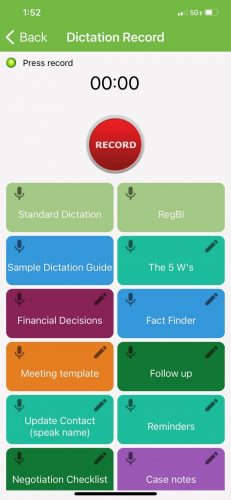 A favorite catchphrase in today's society is "thinking outside the box." We encourage children to do it as early as elementary school, and we encourage adults to do it in the workplace. On one hand, the popularity of this motto makes sense: who doesn't want people of all ages to think more creatively, to innovate? But what about the times when thinking inside the box makes sense – when it's more prudent to stick to a template or guide?
I believe that today's regulatory environment is precisely one of those times, particularly since the Securities and Exchange Commission's Regulation Best Interest (Reg BI) went into effect on June 30, 2020. Reg BI requires broker-dealers, registered investment advisers, and dual registrants to work in their clients' best interests. Of course, the best advisors always did this. However, even for the best-of-the-best, Reg BI increased the pressure on advisors and their firms to maintain documentation proving that all investment recommendations were made with the clients' best interests in mind – not the advisor's or the enterprise's.
That's where I believe dictation and transcription can help. Transcription services such as Copytalk enable enterprises to document their advisors' conversations with clients securely, accurately, and cost-efficiently. Any time, day or night, advisors can use Copytalk to record everything from formal meetings to impromptu conversations to their own post-meeting notes. A live, U.S.-based transcriptionist specially trained in financial services terminology will capture every word, and Copytalk's customer dictations are classified with the highest level of confidentiality, which is essential given the financial services industry's strict regulations.
Yet transcribed conversations and notes are only as thorough as the original conversations or notes were. Advisors, like us all, are only human, and it's all too easy to forget to mention something during a client meeting or when dictating post-meeting notes. That simple act of forgetting could lead to a compliance headache down the road, if regulators perceive the forgotten detail as purposely withheld information. That's why, to truly go that extra mile for better Reg BI compliance, advisors need dictation and transcription templates or guides.
Much as a to-do list helps us all get necessary tasks down without having to rely on memory alone, a dictation template or guide helps an advisor cover all their bases. For instance, Copytalk's sample Reg BI template, which is available to clients who have our MobileScribe app, walks advisors through talking points with clients. The template prompts advisors with questions such as "Have you discussed risk?" and "Have you discussed fees? Costs to transactions, holdings, and accounts?" Not only do templates such as this help advisors have more thorough client conversations, having the transcribed record of them also shows that regulatory mandated topics such as risk were covered during the conversation. That way, if the question of whether the advisor was acting in the client's interest does later arise, the enterprise and advisor can be confident that they fully disclosed important details such as the material facts of the portfolio change – and that they have the documentation proving it.
And so, while I am all for "thinking outside the box" in many facets of life, it's not the panacea that some make it out to be. You wouldn't want your teenager's driving instructor to throw the manual out the window and take an "anything goes" approach. Of course not, knowing – and following – the rules in the driver's manual are crucial to following the law. Similarly, following a transcription or dictation template designed with a specific regulation in mind can help advisors and their firms comply with that regulation. Think of them not as narrow boxes, but rather as necessary roadmaps in a regulatory world.