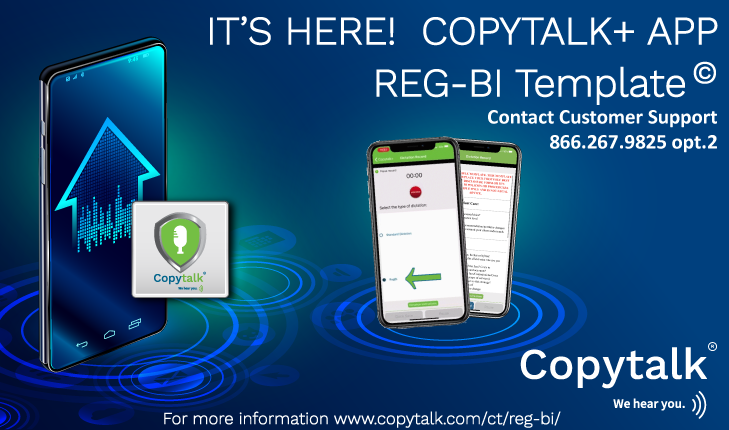 Say the date Oct. 30 to most people and they'll think "the day before Halloween." But for financial services industries professionals, Oct. 30 has a very different (and some might say equally scary!) meaning. It marks four months since the SEC's Regulation Best Interest (Reg BI) compliance date, and many in the industry are using this mini anniversary as a time for reflection.
In fact, much of that reflection came from the Securities and Exchange Commission itself.
Speaking at the SEC's Oct. 26 Staff Roundtable on Regulation Best Interest and Form CRS, Chairman Jay Clayton gave insights and feedback on what the commission has seen over the past few months, including areas where firms need to improve compliance.
In the speech, Clayton remained committed to his earlier sentiment that the effects of the COVID-19 pandemic support the need for Reg BI compliance. "From my perspective, firms' ongoing efforts to meet their new obligations are continuing to help address the needs and expectations of these Main Street investors," he said.
Clayton also gave the good news that "firms generally are, indeed, meeting their obligations" since the June 30 compliance date. Regarding Form CRS, he said, "The staff's review so far has generally found that firms have made good efforts to meet the content and format requirements [. . .] and staff have seen good examples of simple, clear disclosures."
But it was not all good news. "At the same time, it is clear there are areas where compliance improvements are needed," Clayton said, explaining that "staff have identified filings that may lack certain disclosures or could be clearer or otherwise improved."
One such area is Form CRS's disciplinary history section, which is, in Clayton's words, "designed to provide important information to retail investors before they enter into a relationship with a financial professional by alerting them when the professional or the professional's firm has disciplinary history they may want to research, review or discuss."
Even enterprises and advisors that have the best of intentions of being fully compliant with Reg BI may sometimes overlook providing this and other crucial information to clients. That's not because they are purposely trying to keep these details obscure but rather because of an accidental oversight. And with #workingfromhome and everyone juggling multiple balls at once, the chance of a slip is even higher.
Fortunately, Copytalk can help. Copytalk's secure transcription services can accurately capture the details of any meeting, whether with a client or an internal discussion, memorializing what was said so that it can be revisited later. Transcripts of client meetings and interactions also can provide records that oral disclosures were made.
In addition, Copytalk can interface with several leading CRM systems, so that transcripts and notes can be uploaded directly to the client's profile. Finally, Copytalk is the only mobile transcription company that is a member of the Shared Assessments organization, which sets standards in third party vendor risk management. That's crucial because diligence and data privacy are important Reg BI considerations.
We at Copytalk know that your enterprise has a lot to deal with right now, as does everyone. Let us help take some of the pressure off you.
For special enterprise pricing, email enterpriseconcierge@copytalk.com!
VISIT US: www.copytalk.com
Or call us: 1-866-267-9825 Opt 2