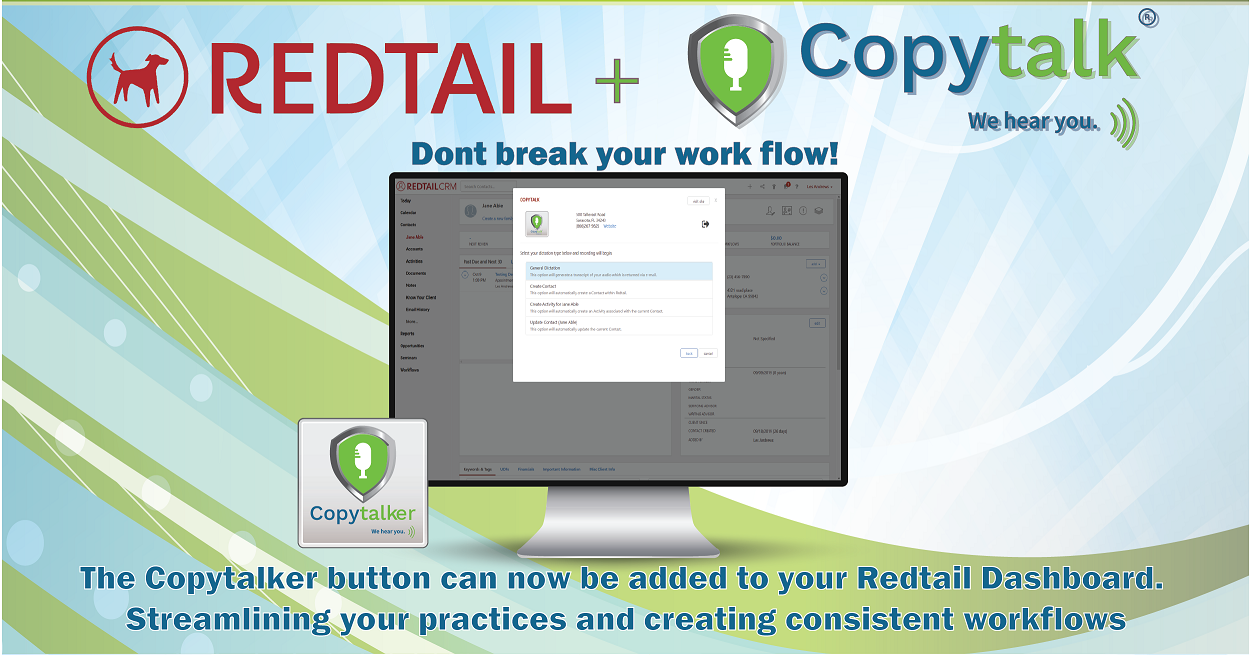 SARASOTA, Fla., Oct. 15, 2019 /PRNewswire/ — Responding to financial advisors and enterprise executives who demand fingertip access to workflow-automation tools, Copytalk, the most prominent transcription service for financial professionals, has joined with Redtail Technology ("Redtail"), the leading provider of client relationship management (CRM) solutions for financial-services firms, to embed one-touch dictation and transcription technology where one's fingertips can access it most easily: on Redtail's dashboard.
The technology, called Copytalker™, is the definition of "seamless technology" – the functional equivalent of embedding a transcriptionist fluent in financial terminology onto a CRM screen. Click the Copytalker™ button and dictate client-meeting notes. The voice file is then uploaded to Copytalk, which creates a transcription and sends it to the appropriate client's page in Redtail CRM.
"Eliminating the phone call produces substantial efficiency," said Copytalk CEO Maree Moscati. "The convenience of one-touch dictation will encourage advisors and executives to document their meetings more often and more fully. If even one key discussion point is kept from falling through the cracks, the benefit to client and enterprise could be significant. Consider the value of saving many key discussion points!"
"At Redtail, we are always looking for new ways to maximize the advisor's time and efficiencies," said Redtail CEO Brian McLaughlin. "In creating seamless functionality for dictation and documentation, our newly expanded partnership with Copytalk's Copytalker™ does exactly that."
For more information, contact Robert Davenport, 866-267-9825 Option 2.