Michelle was introduced to me by Sally Cates. I love that Sally enjoys our Dynamic Women series, and I'm thrilled she has networked with me to bring to you Michelle Smith. Michelle's story is quite unique and interesting. In fact, as we first met (virtually) I got goose bumps because our journeys have been quite similar. We are honored to present Michelle's story and how she determined her "ah ha" moment!
– Maree Moscati, CEO CTPRP
Founder and CEO
Source Financial Advisors
Can you share how your career path positioned you where you are today?
Michelle: Usually people follow their fathers to Wall Street, but I followed my mother. Our favorite family joke is that she got me out of the house, but I joined her at work.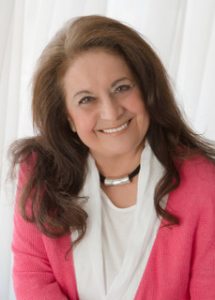 During the middle of her second divorce, my mom was running a second location of my stepfather's shoe store as well as a nursery school she opened, and there wasn't child support and alimony in the '70s like there is now. At the time, my cousin was chairman of the board – Merrill Lynch Government Securities, and he believed early on that women should be on Wall Street. My Mom joined Merrill Lynch as a broker, as a result. So I would work with her in the summers, and I watched her build a business with her unique thumbprint on what 'prospecting' was, and I realized that personal finance is so relationship-oriented. And instead of cold-calling, she decided she was going to put on seminars, which was very progressive at the time. She built her business by educating, and I got to watch a very different approach to being a broker at Merrill. I don't think I would've gone into this business if it wasn't for her because I wouldn't have known. This first experience for me is what made me see this business could also be about how to monetize your personality. It's too bad more women don't know about this field.
What a great phrase, "monetizing your personality." Can you expand on that a little bit?
Michelle: Figure out what you love to do and who naturally connects with you. Map it with what you're good at. Create a marketing plan around that. Create a niche and specialize, and if you hit your metrics, you can purposely and intentionally shape your days and weeks around your other obligations and your schedule. I think this is a great model for work, period, but other industries don't always subscribe to this theory.
I recognized early on in this industry that the biggest producers were the ones who had specializations, whether they were product specialties such as municipal bonds, or planning specialties, such as retirement plans. Eventually, by a confluence of events, it became apparent that I should be looking at divorce. That worked with my personality. I'm comfortable with conflict. I'm the child of two divorces. My great-grandmother left her abusive husband in the 1950s, so this was in my DNA and experience. There are a lot of issues, especially financially, that come along with a divorce, and I was naturally good and comfortable being in a room where there's tension. So for me, this was the perfect skillset, backdrop, and life experience. But I did try different products and different avenues in the years previous, and so it's about finding that blend of who you are and what you do. You've got to pick what you're good at, and then find that disconnect in the market that you can connect.
If you had a do-over in your career, what would it be and why?
Michelle: My do-over is more of a theme, and the one thing I would love younger professional women to learn is that there is no shame in saying, "I don't understand." You learn more when you don't pretend you know it all. Imposter syndrome or feeling afraid to ask questions is going to prevent your professional development. I spent too many years trying to do it on my own without admitting that I didn't know something or asking for help because I felt like everybody else knew more than I did. It's not true. Everybody is equidistant from center.
So if I had one do-over, it would be to drop that layer of walking into a room and feeling that imposter syndrome. You are you. Carla Harris from Morgan Stanley says it the best: You walk into a room with every piece of yourself. So just walk in and stop judging yourself against where you think you should be. What a waste of energy. For a lot of years, I had that insecurity, and a lot of people do. You've got to clear that out and say, "I'm going to focus on what I'm great at."
Michelle Smith has spent her 29-year career dedicated to the financial services industry, including the past 20 years of her life advocating for 'All Things Inclusion and Empowerment.'
Whether her role as the CEO and Founder of Source Financial Advisors, a Registered Investment Advisor firm that specializes in financial empowerment of women going through or recently divorced through its trademarked Wife2CFO educational program, or co-founder of The IDEAL School of Manhattan, an independent inclusion-based school in NYC that she co-founded for her son who has Down syndrome, Michelle is in relentless pursuit of creating an equal and transparent playing field for women with their money and children and their education.