It is such an honor for us to present the success story of Kimberly Beck. This young dynamic woman has had an amazing journey to one of the most coveted positions with one of the most well-respected wealthtech/wealth management platform firms, Envestnet. Her rise within her career is further evidence that working hard, persevering, and finding a mentor who guides you along the way is the way each and every one of us who aspires to greater heights can do it. Yes you can – as evidenced by Kimberly, along with all the Copytalk family of Dynamic Women. By presenting this series, we demonstrate our pride in these amazing women who tirelessly support other women, and while continuing to do amazing things in their communities.
– Maree Moscati, CEO,  Copytalk
Senior Vice President
Head of Envestnet Wealth Marketing
Share something about yourself that most people aren't aware of.
Kimberly: The biggest thing, I would say, is that I'm the first and only person in my family to go to college. It shaped the way I viewed my college experience, and the value I place on education and learning. I was a journalism major at a small liberal arts college called Cabrini, and, at the time, while small, it had one of the best programs in the state for journalism. While others were partying, I was pretty head-down for four years in college … pulling a lot of all-nighters to ensure I succeeded. It was very different than most academic programs, and it was very hands-on. I had a staff of writers and editors, who were other students in the program, and we ran a weekly student newspaper. The leadership skills I developed, the ability to affect change within our school community, and push toward a weekly goal every week … they helped me develop strong skills that I use each day in my career.
Share how your career path positioned you to be where you are today.
Kimberly: The day after I graduated, I started my first job in marketing at a small publishing company. I spent a year there and learned a lot, but I just couldn't see pursuing that as a career, so I pivoted. At the time, my college mailed out newsletters with job openings, and I saw a job as a marketing assistant for a small asset manager. Most of the requirements were things I thought I did well: writing, editing, messaging, project management. But I had no knowledge of the financial services industry, and I almost talked the hiring manger out of hiring me in my first interview because I just didn't know the industry then .
But he hired me on the spot. Everything comes full circle, and more than 20 years later, I'm working for that same hiring manager at Envestnet. I had great experiences at Nuveen, Merrill Lynch and BlackRock, and, along the way, have been fortunate to meet some really smart, good people – who all, in some way, helped me become better.
Also, when I look back at my college experience and my early career, technology was accelerating rapidly during that time. I remember getting email for the first time toward the end of my college experience. During my time as editor of the newspaper, we moved from literally cutting and pasting to produce the paper each week all the way to the complete digital transformation.
That gave me the opportunity to experience and embrace technology and figure out how we could use it to do things better and drive efficiency. Today, I still try to ask what's next when it comes to technology … how can it help us do our jobs better?
My dad instilled a great work ethic in me that I think propelled me to new levels in my career. Along the way, I took on some of the mundane projects that no one wanted to do, but were critical. Having fun along the way and being kind – treating everyone you come in contact with respect and kindness – goes a long way.
Who is one of your most influential mentors?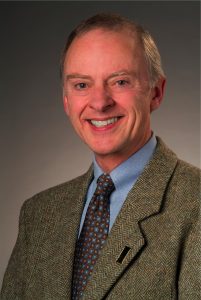 Kimberly: His name is Dr. Jerry Zurek, and he was Head of the English and Communication Department at Cabrini. I actually met him in high school, when he came into our career day to talk about careers in communications.
When I got to Cabrini, I was a work-study student, and I ended up working for him during my first year there. I had a couple courses with him, and the next year, I got more involved in journalism, and he became my academic advisor.
He was just one of those people who saw something in me that, and I know it sounds hokey, I didn't see in myself. He pushed me to lead, and take on projects I thought were beyond my capabilities. I always thought, "Who, me? You're crazy." He gave me a much-needed push and boost of confidence during that time.
It was difficult for my family to afford my college tuition, and there were a few points where I was close to needing to take a semester off due to finances. Dr. Zurek made me apply for scholarship after scholarship – ones I didn't even know existed. And I got them all, and was able to see my college experience through.
I am so grateful to him. I even ended up being an adjunct professor at Cabrini for a bit. Again, it is funny how things come full circle, and I ended up back there teaching under him.
Kimberly Beck has more than 20 years of financial services marketing experience. At Envestnet, Kimberly is responsible for leading the firm's Wealth Solutions marketing efforts, including the Client Experience Office, product and platform marketing strategy, practice management initiatives and strategic messaging efforts. Prior to joining Envestnet in 2016, Kimberly spent 12 years at BlackRock in various product and channel marketing leadership roles, most recently as Director of the firm's Thought Leadership and Education Programs. She started her career at Nuveen Investments. Kimberly has also been an Adjunct Professor of Communication at Cabrini University. She received her MBA in Marketing from LaSalle University and her BA in English and Communications at Cabrini University