On Saturday, October 19th, CBS Sarasota held the most popular event each year, the annual Halloween party in the break room! There were 14 dressed-to-impress people in attendance, and we played What Do You Meme along with our traditional contests and watching films like Hocus Pocus and Repo: The Genetic Opera! We also had a wonderfully spooky potluck dinner. In the photo above from left to right we have Kim Taylor, Eva Molineux, Brandie Teachey, Kyle Cockrum, Marshall Spetsios, Ashley Erickson, Sirius and Sarasota OM Audrey Winings, Hallie White, Katie White, and Lexi Mapes.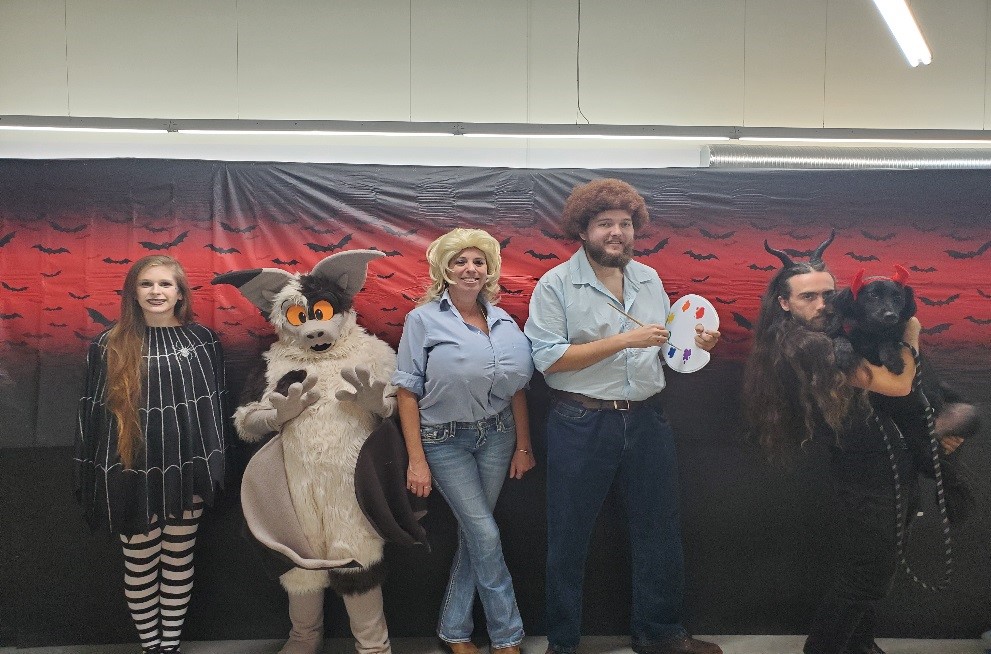 The first contest we held was our costume contest, which our Chief Comfort Officer Sirius decided to enter as The Devil Dog! From left to right, Brandie Teachey as a spooky spider, Katie White wearing her completely handmade bat costume (!!!!), Eva Molineux as Dollie Parton, Kyle Cockrum as Bob Ross, and Jonathan Shrader as holder of Sirius, The Devil Dog. It was a tough competition but the three impartial judges awarded Eva the best costume of the night!
Next, we broke into three teams to work on our annual pumpkin carving contest! It's always so fun to see our scribes working together to bring their unique ideas to life, but so difficult to have to pick one winning jack-o'-lantern!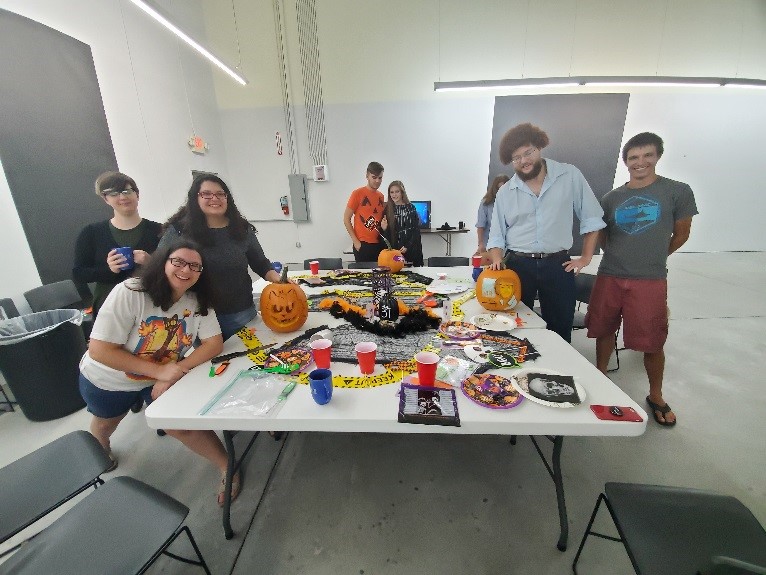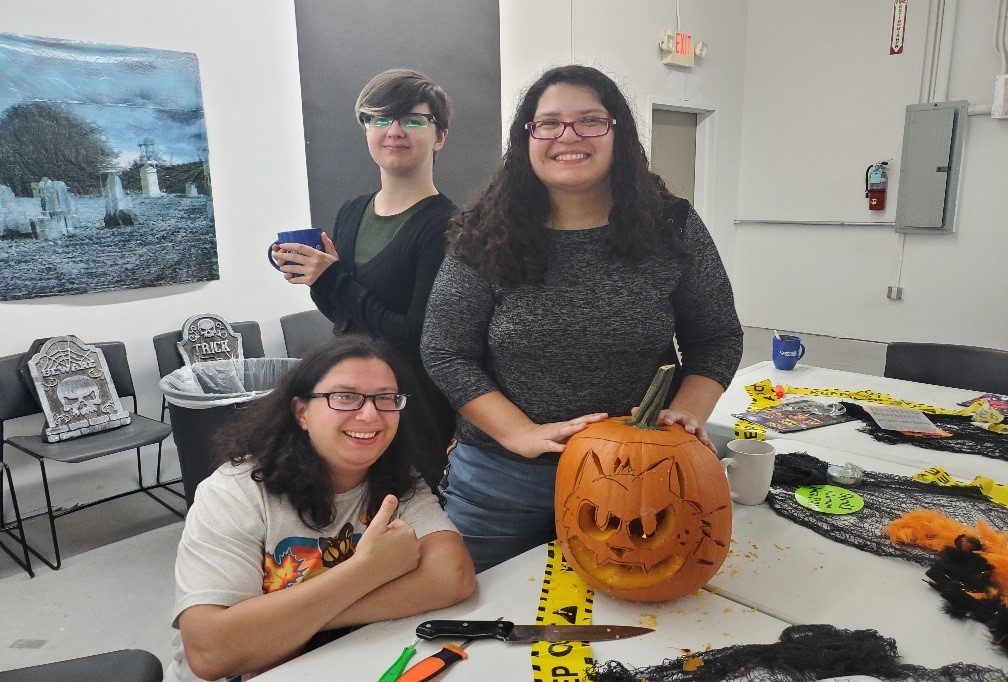 New scribe, Lexi Mapes, teamed up with twin sisters, Hallie and Katie White, for their anime cat pumpkin. Hallie and Katie are both graduates of the Ringling College of Art & Design with degrees in illustration!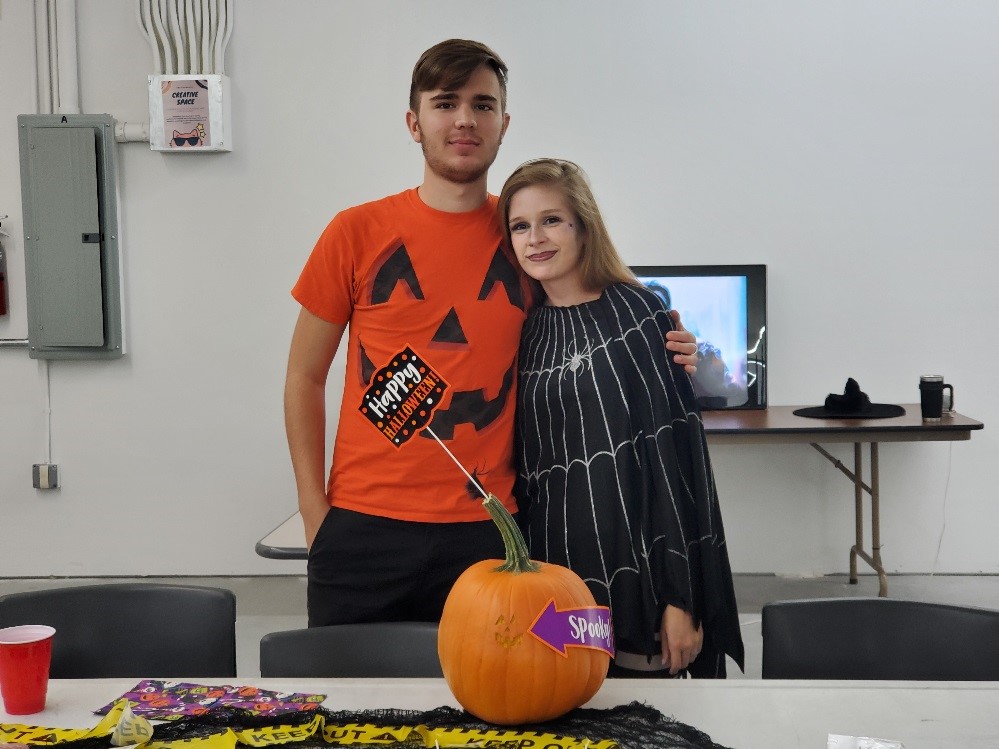 Brandie Teachey teamed up with her plus one, David Correia, as well as Kim Taylor and her husband, Josh (not pictured), to create this unique tiny-face pumpkin, primarily utilizing some of the props we provided to add some whimsy! It is the pumpkin that has lasted the longest after the party.
And the award for best pumpkin of the night naturally went to the Bob Ross jack-o'-lantern as carved *and painted* by Kyle Cockrum and Marshall Spetsios! Marshall, plus one of Ashley Erickson, is a painter by trade, so he was able to bring in some paint and brushes to make this extra special work of art.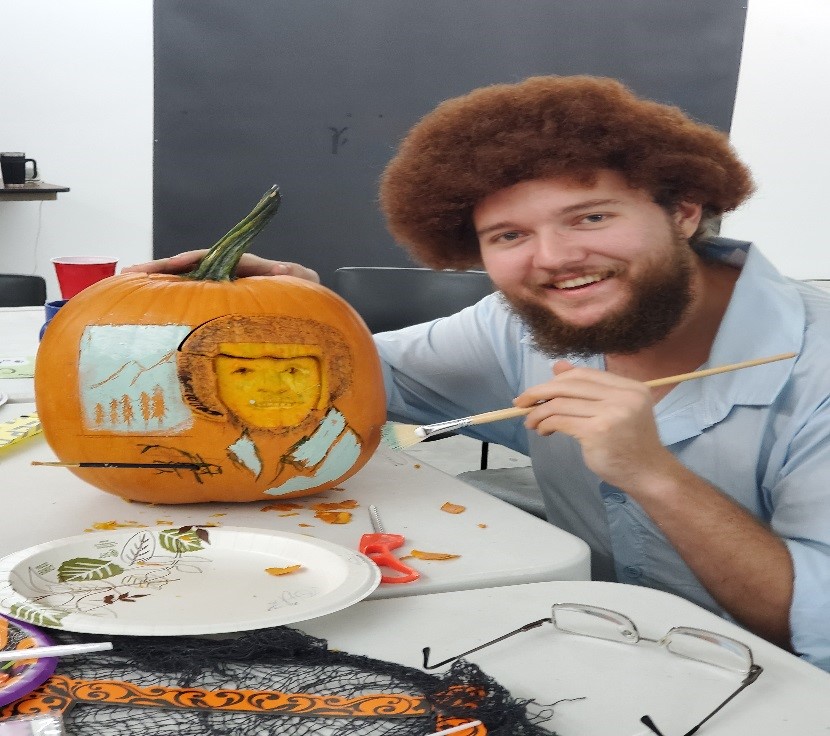 The last activity of the night was our hoot of a Mummy Wrap Race! We broke into two teams, electing two mummies to be wrapped both the fastest and the most completely. In the photos, you can see David Correia being wrapped by Brandie Teachey and Marshall Spetsios as well as Sarasota OS Patrick Dempsey being wrapped by Jonathan Shrader, Kyle Cockrum, Hallie White, and Katie White. Team Patrick won the Mummy Wrap due to their efficient strategy and teamwork.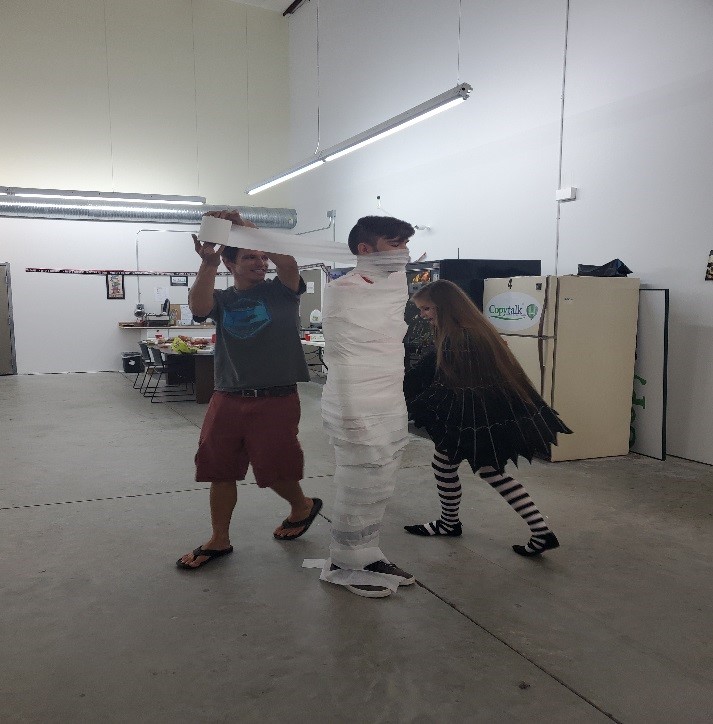 The 2019 Halloween Party was a blast and a half, and we look forward to our next holiday event as well as our Spooky Baking Contest on Monday, October 28th!